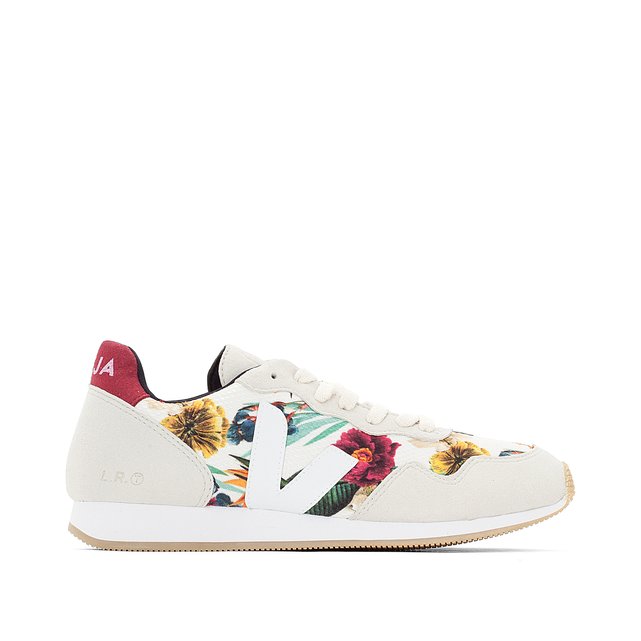 Dress – SkunkFunk
Necklace -Ethical Superstore
Trainers – Veja
I have had these Veja trainers since my birthday back in April but I haven't really had the chance to show them off properly. The dress and necklace were also birthday treats and have become wardrobe staples over the summer months.
I was instantly obsessed with these floral trainers the moment that I say them. Over the last 5 years, my lifestyle has changed significantly, moving from running my own business at home to working in an office and also spending a growing amount of time at exercise classes. Trainers and daps (as we call them here in the West Country) have become my footwear of choice for those rare occasions when I am not wearing workwear or gym wear. They just seem to suit my active lifestyle. Apart from a low wedge for work, I don't often wear heels these days. I really like the fact that these Veja trainers make a bit more of a statement than a plain old trainer, making them perfect for adding a bit of interest to this plain navy dress.
Plus I am loving Veja for their transparency and commitment to sustainability…
Veja trainers are made from Organic Cotton. Veja buys cotton from 320 families who live from organic farming, respecting fair trade rules, allowing them to a sustainable livelihood and helping to protect this fragile environment.
The soles of Veja trainers include rubber which comes from wild rubber trees in the Amazon. Rubber tappers live in the forest and harvest the rubber before turning it into rubber sheets using a process called  FDL which does not require any industrial intermediary processes but allows the them to make a higher income. The growth in the use of synthetic rubber since the sixties has  resulted in landowners turning to less sustainable land uses including cattle farming and wood extraction both of which require land clearance. Use of natural rubber results in a much more sustainable management of the land.
Veja trainers cost more to make than conventional  trainers because of their commitment to ethical manufacture and the environment. But they still manage to keep their prices competitive by not spending any money on advertising.
Veja also work hard to ensure that workers in their factories are treated ethically and paid a fair wage and that they minimise the impact of their packaging and transportation.
Despite all of these things, they are first to admit that they are not perfect. There are a number of the components used in their trainers that are not 100% sustainable. Their trainers are also not recycled. But in my opinion, they are making a great start and leading the way for other brands, definitely worth supporting, when I need a new pair of trainers.
Have you come across the Veja brand before? What do you think?
With warmest wishes